Click here to view original web page at www.econotimes.com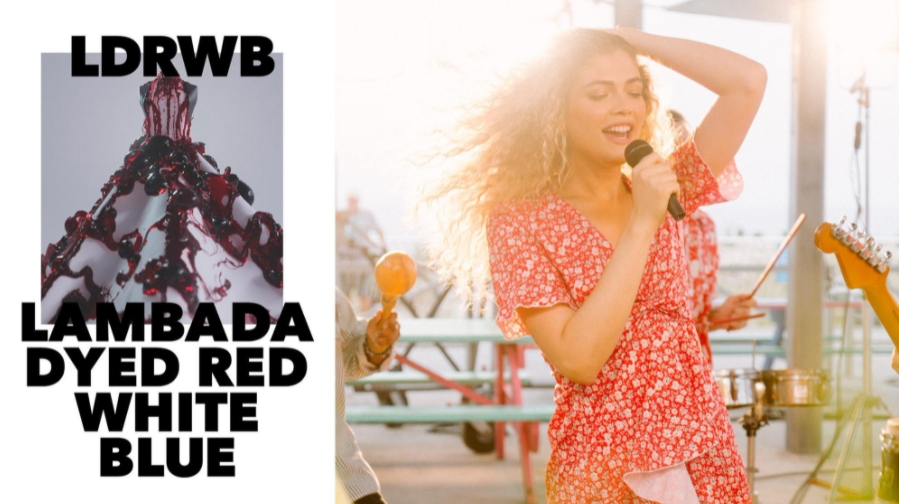 In the latest venture from a group of creatives including supermodel Valentina Sampaio, New York City talent agency The Lions Management and Berlin-based blockchain company LUKSO, this specially curated team of talent from all across the globe has turned a progressive take on a vintage concept into a money-making charity effort. The philanthropy-driven NFT collaboration features a short film reimagination of the classic 80's music video Lambada, directed and written by Branislav Jankic and Jesse Ball, and has already raised $351,000 on auction in the memory of trans lives lost, a historic sum for a fashion NFT.
The project, aptly titled Lambada Dyed Red White and Blue, utilized the talents of Sampaio and Moscow-based digital artist NERI to contribute to its potent visuals. Empowered as a trans woman herself, Sampaio spends the latter part of the film reciting the names of fellow trans lives gone too soon in America while being digitally draped in a CGI-dress by NERI reminiscent of blood. Immediately after the film's premiere, the gown went to auction as a one-off NFT with all proceeds sent to The Ali Forney Center, GLAAD, and Pride Live.
Though this marks Sampaio's most public venture as an activist so far, the supermodel has already made major steps forward in representation for the trans community, having been the first transgender model to grace the cover of Vogue Paris in March 2017 and recently being given the role of Victoria's Secret's first ever trans spokesperson in their new VS Collective.
"Branislav Jankic and Jesse Ball's new film begins with the beautiful diversity and joy of the transgender community and quickly moves to spotlight the urgent epidemic of violence facing transgender people, especially transgender women of color," said Sampaio. "Together with partners at The Lions and LUKSO, we hope our film and NERI's striking NFT raise visibility for the trans community and create an urgent call to action for the world to proudly and strongly stand with trans people."
The project made an impactful statement, garnering the digital cover of V Magazine and countless shares across social media from high-profile celebrities, influencers and activists. With so much international buzz sending attention directly to the creative collaboration, The Lions and LUKSO managed to set a new precedent for a fashion-focused NFT, more than twelve times higher than its predecessor and with all proceeds benefiting a good cause.
With a forward and emotionally stirring perspective on a vintage concept, the co-creative collaboration on Lambada has ultimately aided the LGBTQI+ community for the better, encouraging further philanthropic ventures in the NFT space to follow in their wake.
This article does not necessarily reflect the opinions of the editors or the management of EconoTimes